Cosmetic Dentistry
Cosmetic dentistry is the field of dentistry dedicated to the art and science of enhancing a person's smile, overall appearance and oral health.
Cosmetic Dentistry involves one or any of the following procedures:
Tooth whitening:
People with stained or dull teeth will benefit from whitening - a safe, effective means to whiten stained, discolored or dull teeth (or even a single tooth). In-office and supervised at-home whitening systems are available.
Dental bonding:
Dental bonding is a relatively low-cost, single-visit procedure whereby a layer of composite is 'bonded' to the surface of the tooth. It is most effective to repair minor chips, minor gaps and a variety of aesthetic problems from color to shape.
Dental veneers:
Dental veneers are thin, custom-made moldings that cover the fronts of unattractive teeth. They are crafted from lifelike, high-tech materials to portray a bright, natural smile. Porcelain veneers are the ultimate restoration for spaces, chips, fractures, rotated or misaligned teeth, unshapely or discolored teeth; allowing alteration of tooth position, shape, size and color. The end result - a dramatic cosmetic makeover.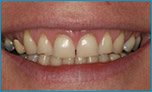 Metal free ceramic caps or crowns with no black margins:
Sometimes a metal fused to ceramic crown looks opaque and artificial which is undesirable specially in the front teeth. Now with metal free ceramic crowns this problem can be totally eliminated. As the name implies, because no metal is used the crown mimics a natural tooth to perfection. With proper shade matching it becomes impossible to tell the difference.
Tooth reshaping/cosmetic contouring:
Reshaping the natural teeth to make them straighter or more youthful in appearance.
Gum reshaping/gum contouring:
Excessive or uneven gums can be corrected with a simple cosmetic surgical procedure or gingivoplasty resulting in a more even, pleasing smile.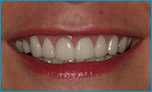 Gum depigmentation:
Sometimes the gums look blackish or brownish because of excessive pigmentation. This can be corrected to achieve aesthetic healthy pink gums.
Inlays/onlays:
Porcelain, resin, or gold filling (made to fit a prepared cavity) bonded in place to help restore a decayed or broken tooth. We utilise only the latest technologies and materials to restore the original beauty of your teeth
- A very proactive and informative approach to dental aesthetic treatment.
- Different options offered to suit all budgets.
- Minimum days and maximum results assured.